CACT Membership: Benefits / Join Today / Membership List
Working together, we are building a strong voice for public transportation in Connecticut. Become a member today to ensure the mobility and quality of life for Connecticut's residents now and in the future.
Download a Membership Application



Acrobat Reader is required. If you do not have Acrobat Reader, click here for a free download.
Join Us Today: Membership Categories and Annual Dues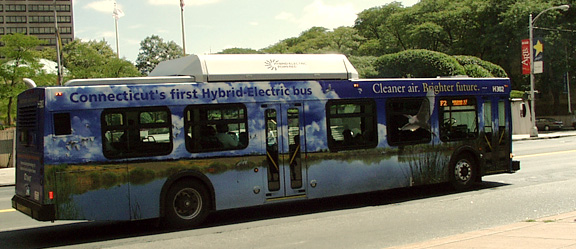 Connecticut's first hybrid-electric bus in Hartford, CT
Connecticut Association For Community Transportation (CACT) Committees
All meeting dates and times, for each committee, are to be determined.

Legislative Committee
The Legislative Committee, working with the Executive Director, promotes and overseas the Association's advocacy activities on behalf of public transportation and public transportation's customer's at local, state, and federal levels. The Committee establishes the Association's annual legislative program, reviews state and federal legislation for its impact on the industry and the customers, and communicates information with the members.
Membership & Finance Committee
The committee, working with the Treasurer and the Executive Director, monitors the financial status of the Association, recommends dues structure, and develops and assures implementation of the Association fund-raising plan; promotes and overseas activities that increases and strengthens membership to enable the Association to provide a statewide forum for the exchange of public transportation and to develop a forum that is inclusive; update and develop membership materials annually; provide follow-up inquiries of non-renewals; update membership profiles; increase CACT's membership annually.
Outreach & Coalition Committee
The committee, working with the Executive Director, promotes and oversees activities that increase contact and involvement of non-member and customer/consumer organizations to promote effective and efficient use of transportation resources, and to effectively advocate for public transportation and its customers. The Committee's work is vital to visibility and credibility of the Association and its work in behalf of public transportation. Specifically, the Committee works to support the Association's goals of serving as a vehicle for the collection and exchange of information of public transportation interest; and, providing training and technical assistance to members.
All rights reserved. Copyright © 2011–2018